Welcome to the tenth step in our free professional learning series on class and student blogging!
The aim of this step is to explain the value of connecting with other classes and  the types of projects educators use to develop global connections through blogging.
Why connect with other classes?
Connecting with other classes can have a huge impact on your class blog because:
Your students benefit from having an authentic and global audience
You gain from being supported by other educators — increasing your skills and developing new ideas that benefit your students
Watch Slivia Rosenthal Tolisano, Andrea Hernandez and their students explain why connecting with other classes is important in the The Possibilities of student blogging.
An authentic and global audience is important because:
When students are writing or publishing for an audience other the teacher, it impacts how they view what they doing and the intrinsic motivation they have.
Students love seeing their work on the Internet and adore getting comments from people. It motivates them to write as it gives them an audience that is real.  The blog opens up a whole new world of people who can offer encouragement and feedback.
 Blogging provides an authentic educational experience, where what they write is not only seen and commented on by their teacher, but by their peers and the "public." For most students, it's a bit of extra motivation knowing their peers will see their work.
There is an authentic audience – a global audience – one that is willing to connect, share, challenge, discuss and communicate with classes. This audience can provide further information, opinions, suggest resources, seek answers to questions and so on which pushes blogging further.
Provides real world problems and solutions to share.
Summarized from The State of Educational blogging in 2014.
Read Kathleen Morris's Do and Don't for forming friendships with other blogging classes.
How to get started
There's a wide range of options for connecting your class blogs (or student blogs) with other classes including:
Student Blogging Challenge
The Student Blogging Challenge runs twice yearly starting in March and September.  It is made up of a series of 10 weekly tasks all designed to improve blogging and commenting skills while connecting students with a global audience and being supported by a team of blogging mentors.
The Challenge is open to both class blogs and to individual student bloggers from all over the world and of all ages.  Participants can complete as many of the tasks as they like and in any order.
March, 2015 Challenge has over 150 Class blogs and 2000 student blogs participating from approximately 35 different countries.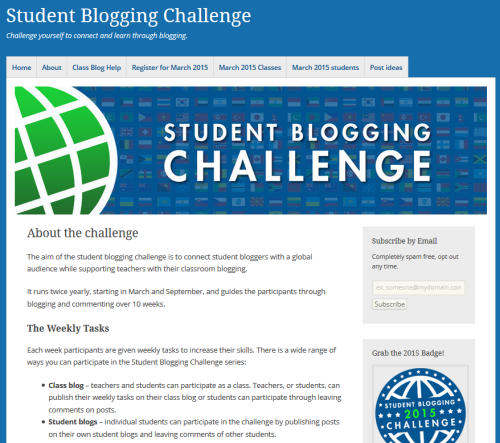 QuadBlogging
QuadBlogging involves connecting your class to a Quad group of four schools/classes.
The idea behind quadblogging is each classroom takes a turn for a week being the focal point of the quad.  During this time the other classes engage with that class blog, participate in any activities the focus class initiates and takes time to learn about that class, their school and region.
Watch this video to learn more about QuadBlogging.
You can create your own quadblog by finding other class blogs who would like to participate in a quad.  Here as some different ways of finding class blogs to join a quad:
Once you've found a class blog that has students of a similar age to your students, and similar approach to blogging, contact the teacher via Twitter, send an email or leave a comment on a post on the class blog.
Global Read Aloud
The Global Read Aloud, created by Pernille Ripp, is a yearly event that spans 6 weeks starting in October each year.
Participants sign up to read the same book aloud to their students and then use whichever technology tool they prefer to connect throughout the 6 weeks.
You can learn more about the Global Read Aloud here.
100 Word Challenge
The 100 Word Challenge is a weekly creative writing challenge for children under 16 years of age.
Each week a prompt is given, which can be a picture or a series of individual words and the children can use up to 100 words to write a creative piece. This is posted on a class blog and then linked to the 100 Word Challenge blog. The link is usually open from midnight on Wednesdays until midnight the following Tuesdays.
You can read more about the 100 Word Challenge here and sign up here.
Twitter
Lots of educators use class twitter accounts in conjunction with their class blogs to connect with other classes and content experts.
Here are some tips for using Twitter with students:
Set up a classroom twitter account separate from your personal twitter account.  Most teachers allow their students to log into the class twitter account during class to compose tweets but the tweets aren't allowed to be sent until checked by the teacher or an adult.
If you decide to use a hashtag make sure it isn't being used by others.
Carefully select who you follow as students will see all tweets by any account you are following.  Drew Frank's Classroom Twitter list is a good place to find other class twitter accounts to follow.
Make sure parents are aware you are using Twitter in class and check your school's policies to find out if parent's need to sign a permission form.  Karen Lirenman's permission form is located here.
Watch this video to learn how Ms Cassidy's Grade One students use Twitter in their classroom.
To learn more about using Twitter refer to The Educator's Ultimate Twitter Guide 2014.
Comments4kids
Comments4kids is a hashtag used by educators to tweet student posts that deserves to be commented on such as a post that is awesome or student that needs encouragement.
Read more about Comment4 kids here.
To learn more about using Twitter refer to The Educator's Ultimate Twitter Guide 2014.
Projects by Jen
 Projects by Jen was developed by Jennifer Wagner and provides a wide range of activities that teachers can use to connect their class with classes around the World.
Learn more about each project, their starting dates and how to register here.
Mystery Location
Mystery Location (or Mystery Skype) works by connecting classrooms using Skype or Google Hangout.  The aim is to guess the location of the other class by asking each other questions.   Mystery Location is a great way of connecting with other classes to learn more about each other.
Learn more about Mystery location here:
Below are examples of class blogs sharing their Mystery Location sessions:
International Days
One way to connect with other classes is to participate in an International Day event. International Dot Day and Blog action day are examples of two International events that classes often participate in.
International Dot Day is on September 15 and is an international celebration of creativity. courage and collaboration when teacher Terry Shay introduced his classroom to Peter H. Reynolds' book The Dot.  You'll find ideas for participating in International Dot Day here.
Below are examples of how class blogs connected with each other from last year's International Dot day:
Check out these ideas of dot day activities you can do with your students.
Blog Action day is where thousands of bloggers from around the world publish a post relating to the Blog Action day topic on October 16.  2014 Blog action day focuses on rising issue of inequality.  The September Student blogging Challenge participates in Blog action day and this is a good way to connect with other classes.  Here is a link from last year's Student blogging challenge Blog action day task.
Other tips
Add a visitor tracking widget to your sidebar so your students and readers can see who is visiting the blog and add a widget to encourage visitors to leave a comment.
Below is a screenshot of the text widget in the sidebar of Super Six Sevens Class blog encouraging visitors to leave a comment.
Learn more about connecting
Check out Connected from the Start: Digitial Learing in the Primary Grades by Kathy Kassidy for more ideas on the different ways to connect your class with other classes.
While Kathy's book focus on her journey with 6 and 7 year old the concepts, tips and ideas she shares on using blogs for connecting, and for digital portfolios,  Twitter and Skype are applicable to all primary grades.
Your Task
We'd like you to add your voice and ideas to our ongoing conversation about student blogging by completing the following tasks:
Check our list of How to get started connecting with other classes.  Leave a comment and let us know which of these options you are going to try with your students and why!  For example, if you've decided to participate in the Student blogging challenge tell us why you've decided to participate in the challenge and what you would like to achieve by participating in the challenge.
Read through the most recent comments in reply to this step and leave a response to another person's comment.