I've been sitting here at my computer for the last couple of hours since Ronnie from Edublogs sent out the newsletter. We have had over 70 new educators say they would like to participate in the first challenge starting next Monday.
A few asked about whether you need to have a blog already – the answer is NO.
The 'Kick start your blogging' challenge on Monday will actually walk you through signing up for a blog and then customizing the theme and settings to suit you and how you are going to use your blog throughout the challenge. We will explain the different blogging platforms to choose from as well.
If you want to be notified by e-mail whenever a new post is added to this blog then please follow these instructions.
If you look in the right sidebar you will see a box that says 'Enter your email address'.
Simply enter your email address, a pop-up box will appear and you just need to enter the anti-spam word and then click on "Complete Subscription Request."
You'll receive an email asking you to activate your subscription, click on the link to activate your email notification.
Now you'll receive an email notifying you when new posts or information are added to this blog.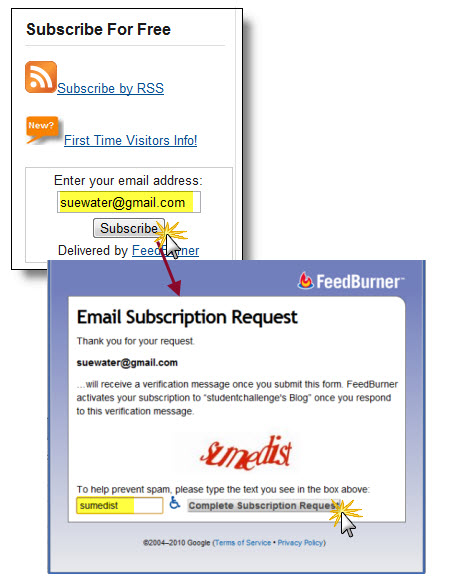 If you are on Twitter and have some questions about the challenge, feel free to use the hashtags #ebshare (connects to Edublogs) or #ksyb (initials for this challenge).
Once everyone has signed up for a blog, we will be asking you to fill in a Google form with your name, your blog URL (begins with http://), whether you are a beginner blogger or advanced and the country you are in.  We will then allocate a mentor to help you with your blogging. By the time I write my first review post, you should be able to find your name and your mentor on the updated mentor's page.
Attribution:
Original image: 'Yoko working late…'


by: Matt Ravier
Released under an Attribution-NonCommercial-ShareAlike License