This is the 1st post in the "30 days to using the best of the web's free tools for educators" series. Be sure to subscribe to the Teacher Challenge blog by RSS, like us on facebook, and follow us on twitter to keep up with future challenge posts as they are published.
Let's face it, we all love free stuff!
Over the next four weeks, we will present as many of the best free web tools for educators and students as we possibly can. We've got tools and websites of all types that you are going to love.
Your challenge: Follow this blog closely for the next month and read about any new tool you haven't yet tried out – there is sure to be many!
Do you your best to carve out a few minutes each week to really try out one or more free tool each week with your students. Then, come back to the blog and share your experience!
The following challenge post was written by teacher Noeleen Leahy.

In this activity you will:
Learn how to create an online noticeboard and check out ideas for using Wallwisher with your students
Learn how students can add to your notice board
Learn how to embed your notice board in your blog or learning platform
Complete one or more of the challenge activities
Overview:
Wallwisher is a Web 2.0 free online tool where anyone can build a "wall".  Discussing a new idea? Taking notes? Giving feedback? Voicing opinion? Wishing a happy birthday?
Your students can then go onto the internet and stick post-it notes electronically onto your wall.  The notes can include linked pictures, You Tube videos, PowerPoints, PDF documents, Excel Spreadsheets, or web page links.
From EduTeacher:

You might create one yourself, or get your students to contribute to one on their own time or in school. Either way, you can embed your wall on your blog and make it accessible to your school community and parents.
Here is one my students contributed to on the theme of Poverty http://www.wallwisher.com/wall/emnetpoverty
Task:
Step 1: Learn how to create an online noticeboard and check out ideas for using Wallwisher with your students.
Sign up and create a Wallwisher account – it's free!
If you want to create a wall without creating an account, it's very simple – just click, write, post.
To build a wall:
Select Build a wall from the top right menu and create a wall.
Select an image and give your wall a title and a sub title.
Choose your wall url (6 – 20 characters)
Decide who can view your wall and who can post to your wall.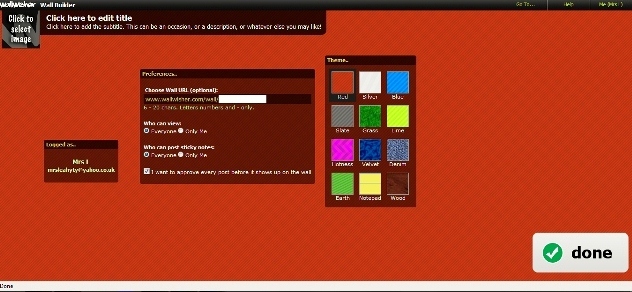 Select to approve every post before it shows on the wall. This way you can moderate all comments whether they are posted anonymously or by a named student.
Choose a theme / colour for the wall and select Done.
Double click anywhere on the wall to add a sticky note
Check out these ideas for using wall wisher with students. Thanks to Tom Barrett for permission to use and to all the teachers who have conributed to this 'Interesting Ways to using Wallwisher' presentation.

https://docs.google.com/a/edublogs.org/present/view?id=dhn2vcv5_436f8kscmdc
Step 2: Have students add to your wall/notice board.
Once you have decided on a theme for your wall you can share the wall with your students.
To share your wall with students:
Select the share tab, top right, or share the web address.
If you select

Email

the wall address will be sent to the recipients in the email.
You can also share your wall via a large number of applications such as Google Reader, Twitter, WordPress.
I usually share the web address with my students first and only when the wall is complete do I use the embed code to post the wall to my blog.
Step 3: Learn how to embed your notice board in your blog as a post or as a widget
When your wall is finished, or even if you wish to post a blank wall to your blog, you will need the embed code.
Go to the

Do More

tab, top right.
Select

embed

and the embed dialogue box will present the code.
Copy this code and paste using the html tab in your blog application.
Challenge:
Complete one or more of the following:
1.      Come up with three topics for a wall of your own. Leave a comment with your suggestions for a wall to this blog post for others use.
2.      Go to the edte.ch website (http://edte.ch/blog/) and email your suggestions for using Wallwisher to the owner. thomasgeorgebarrett@gmail.com
3.      Post a wall to your blog.
4.      Write a blog post about the challenges of using Wallwisher with your students.
Help & Support:
For more help with Wallwisher, use the Help tab, top tight on Wallwisher.com.
Check out the Wallwisher blog for updates and tips http://blog.wallwisher.com/
About:
I am a second level teacher from Ireland. I teach Geography, Religion and IT to 11 – 18 year olds. I have only been blogging for two years. This is my year group blog, an account of everything they do during their 4th Year or Transition Year: http://www.stwolstansty.blogspot.com/